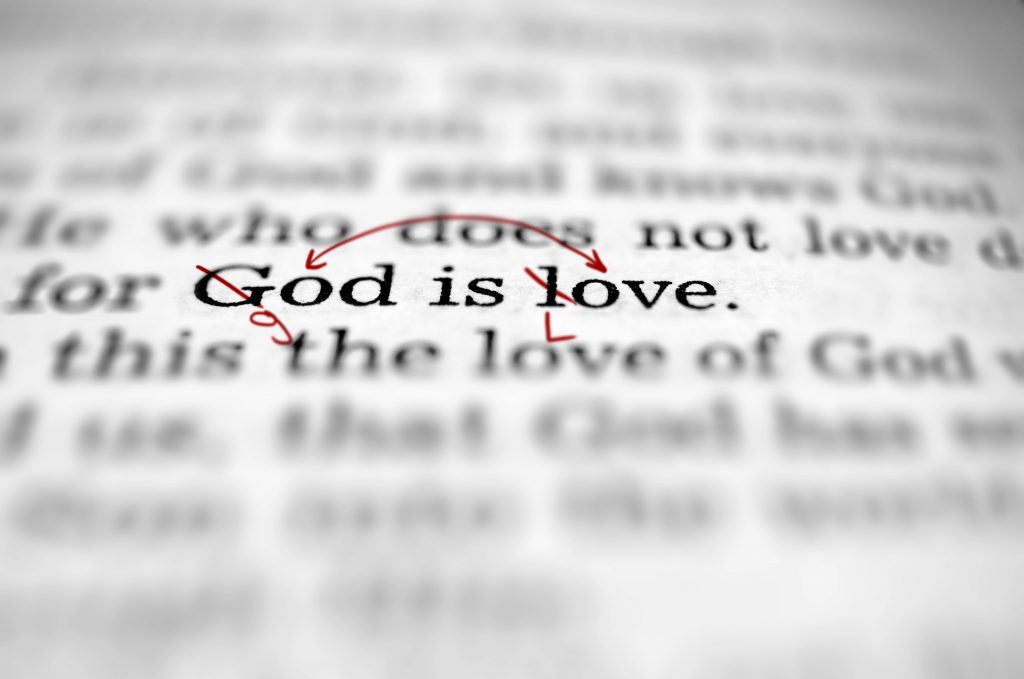 Have We Turned Love Into God?
In our effort as Christians to not offend the culture we live in—to be inclusive—we increasingly preach a gospel of 'God is love,' but in so doing have we made love our God? To hear someone say that "God is love" is nothing new, in fact, it is ubiquitous in our society; nonbelievers often use the statement to "correct" Christians who speak against the sin in the world and the church. What is new is that lines of delineation between "love" and "God" have become so blurred that what we must begin to ask people when we hear them say "God is love" is: "what do you mean?" This is because while hardly anyone will come right out and say 'love is God' they act as though it must be; and only by listening can we discern what they mean when they talk about God and love; this, in turn, reveals which side of the line they are on and whether or not they have turned love into God in their life. 
Evermore popular is the notion that, like a math equation, because God is love, love must be God. 
We would do well to think of love as an action demonstrated rather than a who; because to do otherwise, to extrapolate personhood, would be to create another being, something apart from God but which makes up the Godhead, a fourth part of the Trinity as it were. One problem with this type of reductionism is that it ignores that love is the character rather than the person of God; another would be that if we say or act as if love is God then this would require love to be worshiped: love becomes the object to which all things must bow. This, of course, is exactly what the modern culture and western church has done; they have turned love into an idol which fits their definition and conditions: something into which God must now fit.
1 Corinthians 13 defines what love is or the makeup of love: "Love is patient and kind; love does not envy or boast; it is not arrogant or rude. It does not insist on its own way; it is not irritable or resentful; it does not rejoice at wrongdoing, but rejoices with the truth." These are the attributes of love. While one can certainly say that God is kind or God is patient it cannot be ignored that these are what love is or what love looks like, the very attributions of God's character of love toward us. But if love is God, love must do what God can do; however, unlike God, love is not omniscient, omnipresent, or omnipotent. Love cannot create, love cannot know, love cannot heal, and love cannot save: therefore, love cannot be God.
The bigger problem though is that the idea that love is God is rooted in a cultural view that love needs to accept all things because God is only loving. They are correct in principle but err in how they describe or define this love. God is always, only loving—His discipline, judgment, rebuke, correction, compassion, long-suffering, killing, anger. . . every act done by God is love. Love is His character which is made up of the attributes we see in 1 Cor 13 but love is not God.
I do not make the strawman claim that most people are actually stating that love is God (though some will do this), but I am making the point that people are behaving as though love is God: that love, this warm and fuzzy all-inclusive version of love, is what love must be like and, therefore, what God must do. Think of Rob Bell and how his version of love cries out that, "Love wins!" In the preface of his book he writes:
"A staggering number of people have been taught that a select few Christians will spend forever in a peaceful, joyous place called heaven while the rest of humanity spends forever in torment and punishment in hell with no chance for anything better. It's been clearly communicated to many that this belief is a central truth of the Christian faith and to reject it is, in essence, to reject Jesus. This is misguided, toxic, and ultimately subverts the contagious spread of Jesus' message of love, peace, forgiveness and joy that our world desperately needs to hear."1
And later,
"Millions have been taught that if they don't believe, if they don't accept in the right way according to the person telling them the gospel, and they were hit by a car and died later that same day, God would have no choice but to punish them forever in conscious torment in hell. God would, in essence, become a fundamentally different being to them in that moment of death, a different being to them forever. A loving heavenly father who will go to extraordinary lengths to have a relationship with them would, in the blink of an eye, become a cruel, mean, vicious tormentor who would insure that they would have no escape from an endless future of agony."2 
For Bell and his readers, "an endless future agony" does not exist, Bells writes, "No one can resist God's pursuit forever because God's love will eventually melt even the hardest hearts,"3 because, as he states later, "at the center of the Christian tradition since the first church has been the insistence that history is not tragic, hell is not forever, and love, in the end, wins."4  
This version of love, for Bell and those like him, leaves no room for the judgment, wrath, and justice of God because for them these things are not evidences of God's love but proofs of an unloving and unjust God. Another example of this understanding of love comes from former Hillsong songwriter Marty Sampson, who stated recently, "How can God be love yet send four billion people to a place, all 'coz they don't believe?" What he is saying without saying it is that God is not love nor is He loving, because for God to be love God must fit into Sampson's predefined box; but the breadth of God's actions in Scripture doesn't fit in Sampson's narrow definition of love, so Sampson has walked away from his Christian faith. In the end, for the Bell's and Sampson's of the world, love trumps God, at least the God of the Bible, and love becomes the end-all-be-all. In short, love becomes God. 
But wait, "You said love isn't a person, what about 1 John 4:9, 'In this the love of God was made manifest among us, that God sent his only Son into the world, so that we might live through him." Okay, I'm glad you brought that up. You see if Jesus was love made flesh then everything which Jesus said, commanded and did was an outflowing of love, things like loving your neighbor, loving those that hate you, feeding the poor, healing the sick, taking care of those less fortunate, and so on; but Jesus also spoke of: weeping and gnashing of teeth, judgment of the righteous and the sinner, people going to hell, God's righteous justice, and of casting out those that don't know Him. The problem, the danger, is that when we separate the warm-and-fuzzy from the wrath-and-judgment we fundamentally change what love is. We have reimagined and redefined the love which Jesus embodied and placed within it our own version of love and, therefore, our version of Jesus; thus we no longer worship Jesus but our version of love. If we have done this then the answer to the question must be:  yes, we have made love God.